Beaches Around Gorgona
By Mac Davidson - Assistant to Señor Spears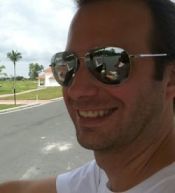 If you are looking for the beach life, you can find it here. Hands down Panama has some of the most beautiful beaches I have seen. I have been to Jamaica, Mexico, French Riviera, Italy, Spain...Florida....and Canada (of course), and Panama (so far) has beaches to rival all of these!
I am a beach bum at heart and hopefully will live out the rest of my days at or near the beach! So this is my write up in a series I will be doing about the beaches in Panama. More coming soon!
When I first arrived in Panama, I was living in Gorgona. Small community about 40 minutes west of Panama City. I wanted to experience the beach life... Coming from Winnipeg, Canada, one of the most landlocked places ever, I needed to be near the ocean. I have always loved being near the ocean...or near water. I love the sand, the waves, salty water, the boats, little critters living in and around the beach and rocks... I find it fascinating and relaxing all at the same time.
There is nothing better than falling asleep listening to crashing of the waves every night.
Those of you who have bought ocean front properties have it made! Hopefully I will have my own beach front property one day. Wake up and have a my morning tea on the deck overlooking the ocean and surf.
Gorgona is an interesting place. Its on the ocean, yet still in the developing stages. There are some condo towers going up and villas but for the most part, this area is still so peaceful, quiet, with hardly anyone around. Definitely tons of room to build your own beach paradise or snatch up a great condo overlooking the ocean! The other great aspect to this area is that it is only a 5 minute drive to Coronado which has nearly everything you will need in terms of shopping, restaurants, tons of other expats and great grocery stores! Everything you will need within just a few minutes of this gorgeous area.
There are a few great spots in and around Gorgona that I took note of. I was in the town of Gorgona, only 2-3 blocks or so from the beach. down the beach is Playa Malibu (going East), another great area to check out and further up the beach (going West) is Nueva Gorgona and then further up from that is Coronado. All on the pacific coast and beautiful!
The most amazing part I found is that almost any day I went out to the beach, at any time during the day, the beaches were next to empty! I found that truely amazing. Of course people work, and can't hang out at the beach all the time and its the rainy season, but the weather there is still amazing... It might rain a little bit here and there, but for the most part, the weather is sunny, humid and gorgeous!! Having the beach more or less to yourself, quiet any day of the week is just one of the great paradises of this amazing country!
Even on the weekends, the beaches are not crazy full, not super loud... I am used to some of the local beaches back in Canada or at the resort destinations where you have to search for a spot to sit, and then put up with people flicking sand on you, bugs...crowded water... screaming kids.... parkies coming to bust some teenagers for drinking and playing their music super loud.... all while trying to enjoy my book, get a tan and relax... Just doesn't work. And with the short Canadian summers which are hit and miss for good beach weather, makes getting out to the beach everyone's priority. Its almost more of a headache than a getaway!
Not quite the case here in Panama. With miles and miles of beaches, on both the Pacfic and Caribbean sides, year round great weather... Plenty of room for everyone everywhere. And if you live in one of the fantastic beach properties year round or just part of the year, you will have the freedom and quietness you always pictured beach life to be!
Here are some pictures of the beaches in Gorgona which I am sure you will agree are beautiful! I never get tired looking at them and of course going to the beach in person.
The entrance to the beach in Gorgona..to the immediate left (just outside of the picture) is a small bar serving beer and sodas. Ahead are small little cabana type things that you can rent for the day for a few bucks.
Beautiful volcanic sand mixed with the regular sand makes for some wicked designs and it gets pretty toasty on your feet! Wear sandals, flip flops or something to protect your tootsies!
Walking further down the beach...notice something? Hardly any foot prints!!!
Looking west, you can see Coronado (its a town for those of your who never heard of it) across the way where the tower is...
Here is a posh gated community, Coronado Country Club with gorgeous villas and condos. Still looking west btw.
This is or was the holiday home of a wealthy Panamanian Business person who owns a series of stores in Panama. Great storm coming too... It was a real boomer!
Volcanic sand, early one Monday morning, still in the Gorgona beach area.
Rocks and waves! Can you hear them?
Standing on the rocks looking east..more or less...
Standing on the rocks, back looking west at Coronado.
Walking further east, heading towards Playa Malibu.
These towers are beautiful inside. Pictures from the view inside the tower closest to the ocean further down.
Still ocean view condos there for sale!
Heading east down the beach, Playa Malibu on the left. New condo tower going up! Room for development all over! Which means more beach front/beach view properties coming!
First floor of the tower closest to the ocean (2 pics above) looking onto the beach in Gorgona.
View of Coronado (looking west) from one of the condos for sale in the tower. Amazing!
View from the balcony of the same condo as above but looking East down the beach...
Straight down!! Beach, pool, sunning area... And if you are an expat, well, there are many in these buildings and everyone is so friendly!
I had to toss this one in...I just love the designs in the sand. Notice something else? No crowds!
Tide is in I think, mixing up the black sand nicely. I think I see one person on the suncart there...lower left. Your quiet paradise awaits!!!
One of the other amazing things is that there are properties in and around these beach communities for sale! And even better is that the prices are still cheap (in comparison to North American prices)... Beach front property in B.C. for example...probably over 1million. Beach front in Florida...probably about the same... But here in Panama, you are looking at beach front prices that would rival a buying house in Winnipeg (well under 1 million!).
If you are interested in buying some beach property or property with beach access, we would be more than happy to help you with that. Just check out the listings we have up for BEACH PROPERTIES HERE.
I know if you are a beach bum like me, and want a great deal for your investment, property out here in Panama is one of the best investments you could make. Especially with an area like Gorgona, Nueva Gorgona, Playa Malibu... The prices are still so cheap and can only make you money in the long run!
Speaking of making money....I haven't even gotten to the renting out aspect. This is just another amazing deal you can find here! Many of the resort areas have condos for sale which you can buy and when you are not using them, they rent to other vacationers, giving you a hefty portion of the profits. They will maintain, clean and even repair/replace any damage (if any) in your condo. So not only do you get a condo on the beach, with the benefits of an all-inclusive resort, you get a real estate investment, as well as a money maker which you don't have to lift a finger for! If you are interested in this investment, please let us know. We can show you some of the best resorts to invest and vacation in!
Last little thing I found... backstory first. When I was weee, my family and I lived in Nanaimo which on the Vancouver Island just across the straight from Vancouver. I was pretty little but some of my memories from that time were going to the beach with the family, playing on the rocks and I remember seeing starfish...but more interesting were the little crabs. Lift up a rock and a bunch would scurry about. Fast forward to now, as I was strolling up the beach one morning, I noticed some sand flicking up, like a dog would do if he were digging...but there was no dog. So I walked up closer and found a little crab attempting to burry himself in the sand! Here he is... Pretty cool!!!
I couldn't resist and poked him with my flip-flop... he didn't like that and sprang out of the sandy hole he was digging and ran so fast down the beach backwards, claws up, watching me, into the water. So if you see a hole like that in the sand...maybe avoid it, just in case!!
Beaches, beaches, beaches!! Panama has all the beach you could want and the prices which will blow your mind. I was even floored by the prices... If I was looking to retire in a sunny tropical destination, had a small stash of investment money ready, this is definitely where I would be looking and buying. No doubt you can still find a great bang for your buck here! And of course, we will help you find that great property, get a great deal and make sure you are satisfied!