Playa Pipa
By Mac Davidson - Assistant to Señor Spears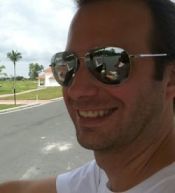 This beach was so great we decided to hit it twice over the course of a busy long weekend (Panama Independance and Flag Day weekend).
Located close to the Royal Decameron and Playa Blanca resorts, in the sunshine belt, this beach has it all if you are looking for a day trip out of the city to escape the hussle and bussle for a short time. From the city, the drive is about an hour west down the Pan-American Highway. When driving, remember to do the speed limit or less. There are always police with radar out and would love nothing more than to pull you over!
Going to this beach is almost like being at a resort for a fraction of the price. Located on the beach are a series of Ranchos (small wooden huts with a picknic table under them, which you can rent for the day (usually between 10 and 20 dollars, depending if its a special holiday). Or you can rent out an umbrella stand closer to the water that comes with loungers and a small table (I think ranging from 5 to 10 dollars for the day, depedning if its a special holiday). Or you can bring your own umbrella and chairs and make your own spot as well.
Admission is generally free (paid as you pull up to the parking entrance), however on holidays they may charge 5 dollars. This would usually cover your parking basically.
Located on the beach is the Playa Pipa restaurant which has servers running all over the beach to each of the ranchos, umbrellas and to generally anyone around where you can order some great dishes such as various ceviches, fried fish, fries, wings... And best of all, alcoholic drinks!!
Oh did I mention, you can bring your own cooler(s) with your own food....and....Beer! Or whatever else you want to drink!
Coming from a country that discourages drinking near water, I found that being able to have a couple of beers on the beach to be crazy! But do they ever taste good in that hot Panamanian sun!
Even during the holidays of this weekend that we all went, this beach was hardly even full, at least when I compare it to the beaches up north. We had to go early to get a rancho, but otherwise the beach itself and the water were hardly what I would call 'packed'.
Besides having ranchos, umbrellas with loungers, great beach, good water (and wow is it warm!), a great restaurnt, servers and food... This beach also sports a small stage. That weekend they were doing Karaoke which started up in the late afternoon generally with a live band which was pretty good.
During the morning and early afternoon, the Playa Pipa staff invited all the kids at the beach for arts and crafts at the stage. It seemed to be a much welcome relief to the parents, I am sure.
As for safety, well, we had no problems each time we went. However there are no lifeguards that I could see, so make sure you watch your kids and each other when you go. And since anyone can walk up into Playa Pipa eiither through the parking lot behind the beach or from the neighboring beaches, don't leave your belongings unattended (basically the same rules in North America...). And watch out for the dogs. Like many places in the country, stray dogs are always lurking around looking for scraps. And these Playa Pipa dogs looked pretty fat compared to others in the towns...so they are definitely not starving. You can bring your own dog, just keep an eye on him/her for these stays. Many are not fixed and don't mind scraping it out with other dogs.
Here are a few pics of Playa Pipa. It was great fun! Friendly staff (some even speak english), and worth going back for more!
View from infront our Rancho.
Looking west down the beach.
Restaurant on the left, rentable umbrellas and loungers.
Looking east up the beach. Decameron resort is just close by, maybe a kilometer or so.
Great waves, not too big but will definitely level your sand castle.
You can see the openess here, plenty of room for everyone without getting in anyone's way.
Yeah, this is what they call a busy beach...
The sun and sun... the view. I felt like I was on a mini vacation... which was great because this is the first time I had gotten to relax since I arrived.
Looking at the main stage (in the giant Rancho) there. Smaller ranchos are behind and to the left.
The tire tracks were from the police roaming around on quads, this being a high tourist trafficked area, it was good to see.
And last but not least, the stage and karaoke begins. They started late in the afternoon and were still going well into the evening when we finally decided to pack up and go. But it was sure fun...and no, I did not sing. Maybe next time....